TOURISM SERVICES:
Keyword:
Category:
DESTINATION 50: Fish River Canyon
/Ai-/Ais, which means "burning water" in one of the local languages, refers to the sulphurous hot springs which are found in this area. One of these springs has its eye within the resort. /Ai-/Ais lies at the southern end of the Fish River conservation area.
ACCOMMODATION
7 x Premier Chalet/Family Chalet
16 x Riverview Double rooms
20 x Mountain view Double rooms
Camping
ATTRACTIONS AND ACTIVITIES
Fish River Canyon
Hiking
Hot springs
Bird watching
Tennis
FACILITIES
Indoor and Outdoor Swimming Pools
Tourist Shop
Restaurant
Bar
Kiosk
Spa and Masseuse
Laundry Service
Filling Station
Affiliation: HAN
SPECIAL: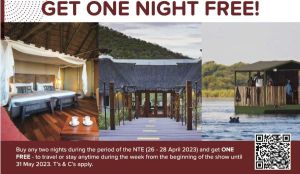 Book with us for 30 % Discount on Rooms at Ai-Ais.
International, Namibian & SADEC Tourists.
(available: 16 Aug 2019 - 30 Jun 2020)
---
Send a query via WhatsApp, then Ai-Ais Hot Springs can reply directly to your device.
Your message has been sent.
Copyright: © Where to Stay.
No parts of this website may be reproduced, stored in any retrieval system or transmitted in any form or by any means without the express, written
permission of the publisher. Extreme care has gone into supplying accurate information, however, no liability can be accepted by Where to Stay for any
errors or omissions that may have occurred.
Tel: + 264 81 886 5788
info@wheretostay.na